INDUSTRY NEWS
2022 Quest Drug Testing Index Report
During the 5th annual National Drug and Alcohol Screening Association (NDASA) conference held in Belleview, Washington, Quest Diagnostics released findings of their annual Drug Testing Index (DTI) report.
The annual report details trends in workplace drug testing, as well as overall positivity rate across all industries in the United States.
The Quest DTI report is based on supplementary data of 10.6 million identified urine, hair and oral fluid drug test results conducted from January 1, 2022 through December 31, 2022. The 2021 and 2022 positivity rates were reported the highest rates since 2001, showing a 30% increase from the all-time low seen in 2010-2012.
Over a five year period, workforce positivity increased overall in every industry data released. Food Services topped the chart with a 42.9 % increase in positivity rate. Finance and Insurance saw an increase of 2.6% in 2018 versus 3.6 % in 2022, a 38.5% increase. The new peak follows a steady increase in post-accident marijuana positivity every year from 2012 to 2022. In that 10-year time frame, post-accident marijuana positivity increased 204.2%.
Marijuana, cocaine and amphetamines showed widespread increases across all sectors. Marijuana continues to be the number one drug for which donors test positive. Amphetamine positives increased by 15.4%. The continued rise in marijuana positives is seen in states that have legalized marijuana use, as well as states that have medical marijuana laws on the books.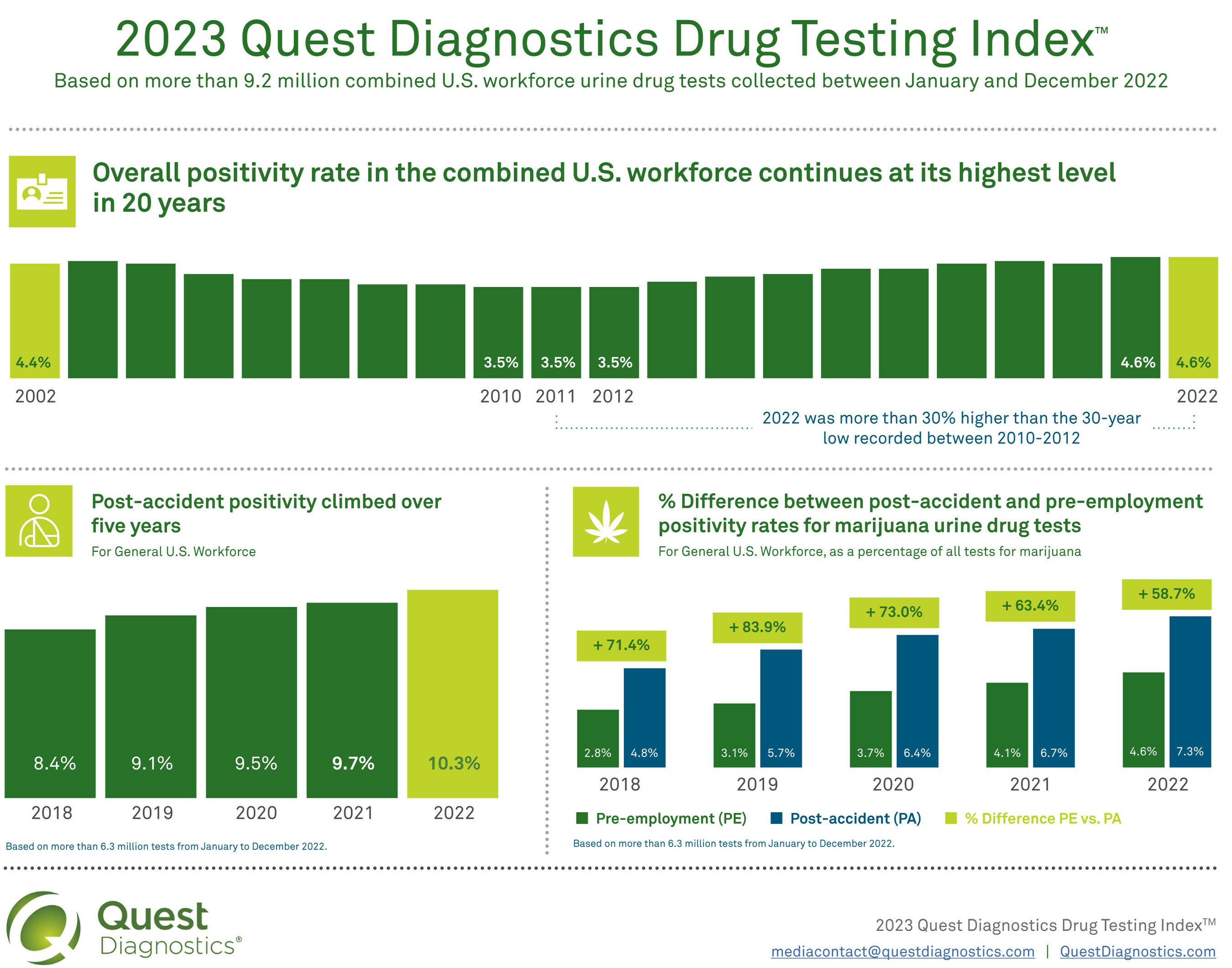 Source: Quest Diagnostics Drug Testing Index Report 2023
Drug Testing Index Data Tables
Drug Testing Index Press Release
Posted: June 1, 2023
---
All Rights Reserved © 2023 Business Information Group, Inc.
This document and/or presentation is provided as a service to our customers. Its contents are designed solely for informational purposes, and should not be inferred or understood as legal advice or binding case law, nor shared with any third parties. Persons in need of legal assistance should seek the advice of competent legal counsel. Although care has been taken in preparation of these materials, we cannot guarantee the accuracy, currency or completeness of the information contained within it. Anyone using this information does so at his or her own risk.
What our clients are saying
We cannot express enough how much we have enjoyed working with BIG! It has really benefitted our processing and ease of doing business!
I enjoy collaborating with BIG, and know that if I have to reach out with a question/concern, a positive attitude with a willingness to find resolve is on the other side of an email or a phone call.
You have been the most professional and most helpful business partner that I have ever been associated with — always there to assist us and with rapid turnaround times.
I am confident whenever we add a product with your company that I will have a good experience.
We have received superior service and we know this is what you and your team strive for. We are grateful for the dedication, level of professionalism and effort shown.