COMPANY NEWS
BIG achieves newest ISO 9001:2015 quality management system certification
BIG is proud to announce our ISO 9001 standard certification renewal from ISO 9001:2008 to the newly revised standard, ISO 9001:2015.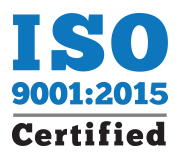 ISO 9001 is the world's most widely recognized quality management standard and helps organizations to meet the expectations and needs of their customers. As part of the ISO 9001:2015 certification process, BIG engaged in a rigorous audit of our business processes as well as our product quality environments.
As a previously ISO 9001:2008-certified organization, we have successfully completed the transition to the 2015 revision nearly two full years before the deadline to do so and became one of less than 5,000 companies to achieve the certification thus far.
By achieving this level of certification we continue to demonstrate our ability and desire to effectively and efficiently provide a quality management system while continuously improving our products and services as well as our internal processes.
What our clients are saying
We cannot express enough how much we have enjoyed working with BIG! It has really benefitted our processing and ease of doing business!
I enjoy collaborating with BIG, and know that if I have to reach out with a question/concern, a positive attitude with a willingness to find resolve is on the other side of an email or a phone call.
You have been the most professional and most helpful business partner that I have ever been associated with — always there to assist us and with rapid turnaround times.
I am confident whenever we add a product with your company that I will have a good experience.
We have received superior service and we know this is what you and your team strive for. We are grateful for the dedication, level of professionalism and effort shown.