INDUSTRY NEWS
Kansas City, Missouri Joins National Movement to Ban Salary History Inquiries
Kansas City, Missouri joined the growing list of cities with salary history bans, aligning with a national trend that continues to gain momentum. On May 23, 2019, the city council passed Ordinance No. 190380 — aimed to address the city's reported 21.7% gender pay gap.1 The ordinance takes effect on October 31, 2019, and applies to any employer in Kansas City that employs six or more employees.2
What Will the Ordinance Restrict?
The ordinance generally prohibits employers from inquiring about an applicant's salary history. The term "applicant" is defined broadly to include "any person applying for employment with an employer located in Kansas City, Missouri." Presumably, therefore, the ordinance applies to any individual who has submitted an application for employment. The term "inquire" is also defined broadly as the act of communicating any question or statement to an applicant, the applicant's current or former employer, or an agent or employee of the applicant's former employer, or, to conduct a search of publicly available records, where such actions are undertaken "for the purpose of obtaining an applicant's salary history."
The ordinance also prohibits employers from screening applicants based on their current or previous wages, or other compensation, and prohibits employers from maintaining any requirement that prior wages meet minimum or maximum criteria. Similarly, employers cannot use past wage information to determine whether to offer an applicant a position or to determine the applicant's salary or other compensation. Further, employers may not retaliate against, refuse to hire, or otherwise "disfavor" an applicant because the applicant refused to provide his or her salary history to the employer.
Similar to the salary history bans passed in other jurisdictions, the Kansas City ordinance includes several exceptions. Most importantly, the ordinance expressly allows employers and applicants to discuss an applicant's expectations as they relate to salary, benefits, or other compensation, "including but not limited to unvested equity or deferred compensation that an applicant would forfeit or have cancelled by virtue of the applicant's resignation from their current employer." Additionally, an employer and applicant may discuss an applicant's salary history if the applicant voluntarily, and without prompting, discloses his or her salary history.
Moreover, the salary ban excludes current employees who apply for internal job transfers or promotion. The ordinance further excludes former employees who apply for rehire within five years of their employment separation, where the employer maintains access to the former employee's compensation history at the time of rehire. Employers may verify an applicant's disclosure of non-salary-history information, or conduct a background check, as long as any salary history information the employer gathers through this verification process is not used to determine the applicant's salary, benefits, or other compensation. Finally, the ordinance excludes all employees whose salary or compensation is determined pursuant to a collective bargaining agreement.
Salary History Bans—A National Trend
Kansas City's ordinance adds to a growing list of states and localities that have implemented prohibitions on employer salary history inquiries within the last few years. The majority of this legislation generally prohibits employer inquiries into a job applicant's past compensation, with limited exceptions.3
Within the last 12 months alone, Hawaii, Colorado, Connecticut, Maine, Suffolk County, New York, Cincinnati, Ohio, Vermont, and Washington have enacted legislation prohibiting employer inquiries into an applicant's salary history, and further prohibiting employers from relying on an applicant's salary history in determining the applicant's salary, benefits, or other compensation.4 Salary history bans were enacted earlier in California, Delaware, Massachusetts, Oregon, Puerto Rico, San Francisco, California, New York City, New York, and in Albany and Westchester County, New York.5 Moreover, legislation has also been passed in Atlanta, Georgia, Illinois, Chicago, Illinois, Louisville, Kentucky, New Orleans, Louisiana, Montgomery County, Maryland, New Jersey, North Carolina, Pennsylvania, Pittsburg Pennsylvania, and Salt Lake City, Utah, that prohibit state agencies, or city agencies or departments, from requesting an applicant's salary history.
In contrast, two states have bucked the trend by passing statewide restrictions on local salary history bans. In 2018, Michigan6 and Wisconsin7 passed legislation that prohibits localities from passing any ordinance or policy that would limit the information, or types of information, an employer may request from an applicant, including employer inquiries regarding an applicant's past earnings or compensation. The stated purpose of this legislation is to eliminate the burden placed on employers when they are required to comply with differing ordinances, policies, and resolutions governing the application and interview process throughout the state.8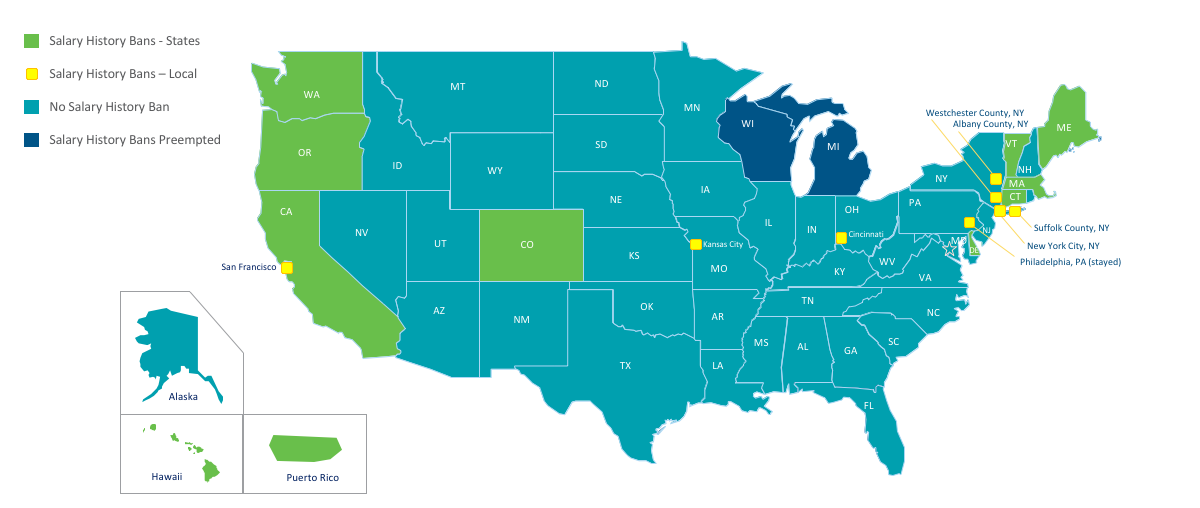 Whether other states and localities follow this growing trend, or seek to create their own path, we will continue track developments in this area. Employers are advised to evaluate their hiring and interview documentation, and compensation practices, to ensure that they align with applicable jurisdictional laws and ordinances.
This article was originally published on Littler Mendelson's website.
Click here to read the original article
.
© 2019 Littler Mendelson. All Rights Reserved. LITTLER MENDELSON®, ASAP®, INSIGHT® and LITTLER REPORT® are registered trademarks of Littler Mendelson, P.C.
---
1See Ordinance No. 190380, available at http://cityclerk.kcmo.org/LiveWeb/Documents/Document.aspx?q=%2fbEavSFoSCe%2bos0RzO0CYdqQoYbb2U9G9ynBfKr7tsQZUMcV2MgvelS9rtkh8x8p.

2Kansas City previously adopted Resolution No. 180519 on July 26, 2018, which amended the City's employment application and interview process to eliminate disclosure of past salary history. See Resolution No. 180519, available at http://cityclerk.kcmo.org/LiveWeb/Documents/Document.aspx?q=DMtn91S9jAu%2FshtVlQJ%2FKMX1KxWjsvNN%2FDUxAGaqYLtm79fCaYrMsuyLYWc%2B8NcU.

3The U.S. House of Representatives has also taken action on previous salary inquiries, passing the Paycheck Fairness Act on March 27, 2019, but the legislation is not likely to make progress in the Republican-controlled Senate. See Alexandra Hemenway, House of Representatives Passes Paycheck Fairness Act, But its Future is Uncertain, Littler ASAP (April 2, 2019).

4See William J. Simmons, Martha J. Keon and Judy M. Iriye, Hawaii Joins Salary History Ban Trend, Littler ASAP (July 6, 2018); Jennifer Harpole, Colorado Legislature Passes Significant Equal Pay Bill, Including Salary History Ban and Job Posting Requirements, Littler ASAP (May 8, 2019); Christopher Neary and Sharon Bowler, Connecticut's New Pay Equity Bill Prohibits Questions Regarding Prospective Employees' Wage and Salary History, Littler ASAP (May 23, 2018); Alexandra Hemenway, In Step with National Trend, Maine Passes Salary History Ban, Littler ASAP (Apr. 22, 2019); John Bauer and Kelly Spina, Suffolk County Set to Become the Fourth New York Jurisdiction to Ban Salary History Inquiries, Littler ASAP (Dec. 10, 2018); Chad Kaldor, Cincinnati Bans Salary History Inquiries, Littler ASAP (Mar. 15, 2019); Joseph Lazazzero, Vermont Enacts Salary History Inquiry Law, Littler ASAP (May 15, 2018); and Breanne Martell and Alexandra Hemenway, Washington Amends its Equal Pay Law to Enact Salary History Ban and Require Disclosure of Salary Ranges, Littler ASAP (May 16, 2019).

5See Alexandra Hemenway, California Provides Guidance Regarding Its Salary History Ban, Littler ASAP (Aug. 7, 2018); Joon Hwang, Delaware Enacts Law to Address Gender Pay Gap By Prohibiting Employers From Requesting Compensation History of Job Applicants, Littler ASAP (June 19, 2017); Michael Mankes and Stephen Melnick, Massachusetts Attorney General Publishes Long-Anticipated Guidance on the Revised Pay Equity Law, Littler Insight (Mar. 5, 2018); Cody Emily Schvaneveldt, Oregon's Pay Equity Law: Bureau of Labor and Industries Issues Permanent Administrative Order and Rules, Littler ASAP (Nov. 29, 2018); María Cáceres-Boneau, Jean Schmidt, and David M. Wirtz, New York City Set to Ban Inquiries About Salary History, Littler ASAP (Apr. 14, 2017); Martha Keon and William J. Simmons, Philadelphia Adopts Regulations Clarifying the Still-Stayed Ordinance Banning Salary History Inquiries, Littler ASAP (Oct. 24, 2017); and Bruce Sarchet and Corinn Jackson, Another San Francisco Treat: Mayor Lee Signs Salary History Ban, Littler ASAP (July 20, 2017).

6Jaclyn Giffen and Bill Vincent, Michigan Expands its Preemption Law to Cover Interview Limitations, Littler ASAP (Mar. 29, 2018).

7Adam Tuzzo and Jon Levine, Still "Open for Business" – New Wisconsin Legislation to Preempt Most Local Employment Ordinances, Littler ASAP (Mar. 27, 2018).

8See Wis. Stat. § 103.36.
What our clients are saying
We cannot express enough how much we have enjoyed working with BIG! It has really benefitted our processing and ease of doing business!
I enjoy collaborating with BIG, and know that if I have to reach out with a question/concern, a positive attitude with a willingness to find resolve is on the other side of an email or a phone call.
You have been the most professional and most helpful business partner that I have ever been associated with — always there to assist us and with rapid turnaround times.
I am confident whenever we add a product with your company that I will have a good experience.
We have received superior service and we know this is what you and your team strive for. We are grateful for the dedication, level of professionalism and effort shown.