INDUSTRY NEWS
USCIS Issuing Form I-797C to Extend EADs for Certain Afghan Parolees
New document combination adds yet another unlisted document combination employers are responsible for knowing under penalty of fines and sanctions.
BIG has recently been informed that USCIS is now issuing Forms I-797C to Afghan nationals whose parole status - and EAD - is about to expire. This document, which is part of a larger "re-parole" process that allows certain Afghan nationals to remain in the United States past the "Admit Until" date on the Form I-94, will read:
Notice Type: Additional Action
Class: C11
Valid Until: MM/DD/YYYY.
See below for an example of this Form I-797C: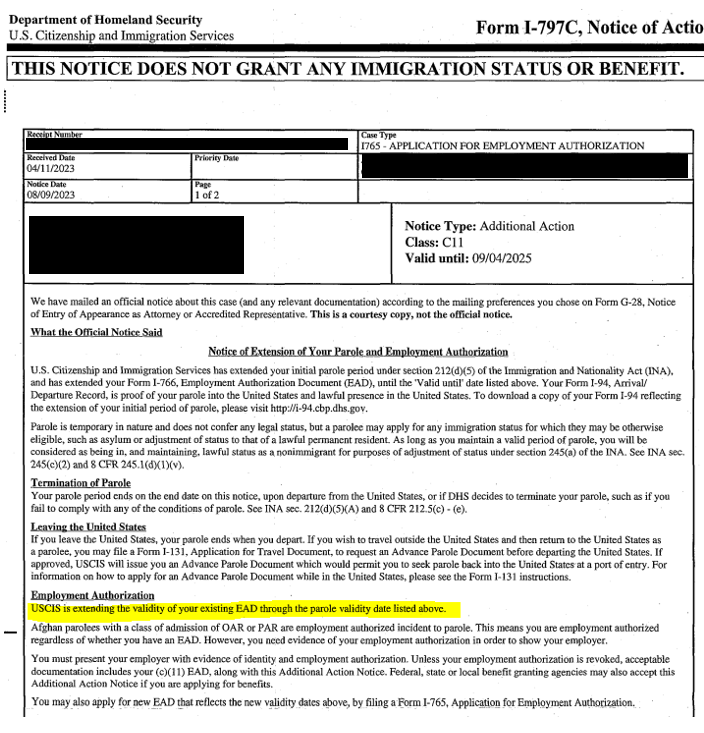 An individual seeking to extend the validity of their Employment Authorization Document (EAD or Form I-766) must present the EAD and this Form I-797C together, and persons completing Form I-9 must examine both. The "Valid Until" date listed on Form I-797C will become the EAD's new expiration date.
Certain Afghan and Ukrainian nationals are work authorized incident to their status in the country and may use Form I-94 to evince work authorization for an initial ninety-day period. For more, click here.
For more information about the re-parole process for certain Afghan nationals, click here.
Posted: August 24, 2023
---
All Rights Reserved © 2023 Business Information Group, Inc.
This document and/or presentation is provided as a service to our customers. Its contents are designed solely for informational purposes, and should not be inferred or understood as legal advice or binding case law, nor shared with any third parties. Persons in need of legal assistance should seek the advice of competent legal counsel. Although care has been taken in preparation of these materials, we cannot guarantee the accuracy, currency or completeness of the information contained within it. Anyone using this information does so at his or her own risk.
What our clients are saying
We cannot express enough how much we have enjoyed working with BIG! It has really benefitted our processing and ease of doing business!
I enjoy collaborating with BIG, and know that if I have to reach out with a question/concern, a positive attitude with a willingness to find resolve is on the other side of an email or a phone call.
You have been the most professional and most helpful business partner that I have ever been associated with — always there to assist us and with rapid turnaround times.
I am confident whenever we add a product with your company that I will have a good experience.
We have received superior service and we know this is what you and your team strive for. We are grateful for the dedication, level of professionalism and effort shown.